I'm quite the Apple fan boy, believe me. There's something about shiny aluminum that really draws me to tech products. Besides that, there are some fantastic features that originally drew me to the iPhone, and there are some fantastic features that keep me coming back. Sadly, the design of iOS 6 is not one of them.
Whilst it may be true that in its hayday, iOS was simple and brilliant, today I find it dated and boring. Arguably, iOS has only gotten better since its release with the iPhone in 2007, but I'm starting to get really tired of the same boring home screen, lack of customisability and skeuomorphic apps. With Scott Forstall taking a hike from Apple, I'm very hopeful that under the watchful eye of Sir Jony, iOS 7 (or the next installment of iOS by any other name) will be a very significant transformation. But if that fails? Where will I go?…
To Moria Windows Phone 8. Granted, Android is a much better-established OS, but frankly, I find the user interface messy and repulsive. There's just something brilliant about Windows Phone 8 that I haven't found in any other operating system, and so I'd like to take some time to examine Windows Phone 8, looking at the features I really like, and then exploring what I think iOS could make use of…
Design
As I mentioned earlier, the feature of iOS that currently ails me the most is its design. Whilst it's functional and easy to use, it lacks any kind of innovation or customisability, something I think Windows Phone 8 has really nailed. Just before I explore this, it's important to mention that design really is about personal taste, so I don't expect any of you to agree with me on this one. I'm not trying to suggest that the next version of iOS should look like Windows Phone 8. Instead, I'm saying that iOS should look to improve on the principles of its design.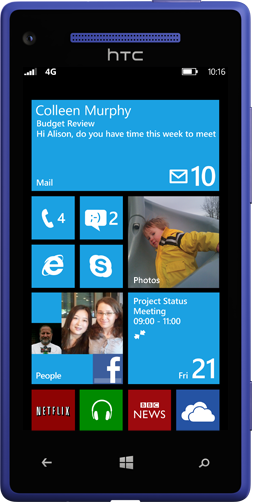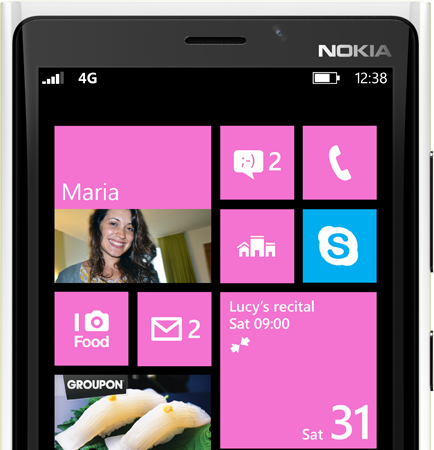 Now, I'm something of a minimalist, and I find Windows Phone 8's user interface to be simply stunning. I love the tiles, I love the crisp, clean fonts, I love the extensive choice of colors, and I love the potential to make the home page a really unique and personal space, tailored to my own needs. You see, with iOS, the only thing I can customize on the home screen is the order in which my apps are placed and the wallpaper. Being somewhat OCD, my apps sit color-coded, but that's about as far as it goes. With Windows Phone, not only can I can choose the arrangement of my apps, I can choose the color of the tiles and the size too. That doesn't sound like much, but actually, it gives me a very wide range of combinations and layouts so that I can personalise my home screen to completely fit my own needs. Perhaps my favorite feature of the home screen is Live Tiles. A feature that automatically updates tiles with no user input required. Using this, I can simply look at my home screen and see my latest texts, emails, Facebook notifications, scheduled appointments and news updates. It brings lots of key information into one place, and that's something I really like.
It might seem shallow, but I think that the Windows Phone UI is probably the feature that I like the most about the OS. That being said, there are a whole host of other features that I think are really awesome, and would love to see appear in iOS one day.
Lock Screen
With Windows Phone 8, you can customise your lock screen to show not only calls, texts and appointments, but also updates from apps. I think this is important because sometimes it would be much easier to simply look at your phone for a piece of information, rather than have to unlock your it and open a certain app.
NFC
There were a lot of NFC rumors leading up to the iPhone 5's release, but sadly no such feature was delivered. I think that NFC would be a really cool addition to the iOS, allowing easier content sharing between devices in a way that is convenient and fast.
Better Messaging
In Windows Phone 8, messaging allows you to switch between texts and chat at will, and gives the option to attach all kinds of media, such as videos, voice notes and locations. Granted, iOS is starting to push this area more, but I'd still like to see a more fully integrated experience.
Maps
iOS 6 maps is something of a taboo, and combined with Nokia especially, Windows Phone maps are really something else. There's turn-by-turn, augmented reality, venue maps, and an offline option, giving you the opportunity to get the full maps experience whilst saving on data costs. iOS could certainly learn a thing or two from WP 8 here…
Office integration
Thankfully, this is one feature that will be coming to iOS very soon, with Microsoft Office apps due in March. Office is by far the most popular productivity suite out there, and I've always been a little wary of buying an iPad without Office compatibility. In fact, it was the announcement of these apps that finally convinced me.
Data Sense
My final feature is Data Sense, an inbuilt app in WP 8. Data sense tracks all data usage so you can be sure you never run into unwanted data charges again. Of course, there are hundreds of apps like this for in the iOS App Store, but an app integrated into the OS is so much more functional, convenient and reliable. I would really like to see a similar application built right into iOS.
So there you have it! Of course, these are just suggestions and ideas. If Apple were to include any features similar to this in iOS, it would only lead to a massive lawsuit. Neither of these operating systems are perfect, but there are definitely some excellent features in WP 8 that would make a big difference to iOS. And like I said, I'm not suggesting Apple copies these features exactly. Rather, I'd like to see Apple's own take on the principles that these WP 8 features are based on. If you agree or disagree with anything I've said, be sure to let me know in the comments and on Twitter @TiP_Stephen