In the first part of this series, I explored the most attractive, and most practical ways to protect your iPhone. If you haven't had a chance to read that piece, then I'd recommend checking it out here. Today, I'm going to investigate 3 of my favorite iPhone media accessories. As a device, the iPhone is an incredibly capable media tool. It can be used to create media, and consume it at incredibly high standards, but that doesn't mean it can't be made better. There are some really nifty accessories out there that really push the boundaries of what your iPhone can do.
My first awesome media accessory is the Sonoma Wire Works GuitarJack. This incredibly piece of kit transforms your iPhone into a fully functional guitar amplifier.
The GuitarJack features a 9mm input for your guitar lead, a 3.5mm jack for your headphone socket, and also a microphone input slot. When combined with the FourTrack iPhone app, it can be used to record a vocal and instrument track simultaneously. It isn't studio quality, but this piece of equipment could effectively be used to release a solo record. It comes with a fantastic variety of amps and effects, and it's incredibly easy to use. The build quality is incredibly high, and overall this is a fantastic device. Naturally, this kind of functionality does come with a rather high price tag, but as a guitarist, I'm convinced that this is definitely one of my coolest media accessories.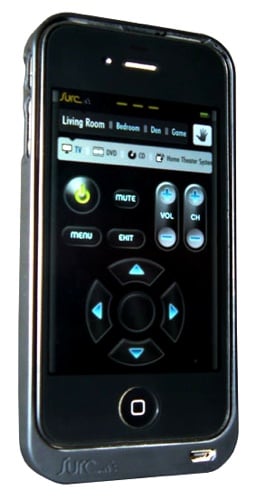 My next device is another incredibly practical media solution. The Surc Universal Remote Control Case (Left). Despite the fairly long-winded title, the Surc remote is another really cool media extension of the iPhone. Like the GuitarJack, it's a piece of hardware combined with an app, designed to act as a universal remote control. The device is capable of controlling hardware up to 15 feet away from a device, and it comes with a Micro USB connection cable, so that you can charge your phone, and sync your device without having to remove the case. It doesn't suck up your phone battery, and the IR Blasters are located alongside your lock button, so you can hold your device like normal. The app can be made compatible with an unlimited number of rooms. This way, you can organize your devices according to the plan of your residence. Once you're in the room, there's an extensive database that will search for the technology you're trying to control, perhaps a television or a DVD player. You can then customize the button layout, and you can also add gestures, to make using your remote a little more intuitive. Aside from that, it's got a really sleek, minimal design that doesn't add to your iPhone, and doesn't get in the way of other tasks. The convenience and ease of use that comes with this device is astounding, and it really has impressed me. You'll probably pay around $80 for one of these, but if you're looking for convenience and functionality, then I can't recommend this highly enough.
Now it's time for my coup de grace. Having been introduced to this device just over a week ago, I have fallen in love. Step forward, the KiDiGi i-Pico Pocket Projector.
The i-Pico docks to your iPhone in a similar fashion to a battery pack, partially because it is a battery pack. The i-Pico comes with a 15-lumen projector lamp, a 0.5W speaker, a focus adjustment wheel, and a 2100mAh battery. The projector can display an image at a resolution of 640×360, giving it an aspect ratio of 16:9. It will project a maximum image size of 60 inches, at a distance of 2m, which is pretty astonishing to be quite frank. With a full charge, it has around 2 and a half hours of usage time, so just enough to watch a feature length film. The app required to use the device can access your photos and videos. It can also display Facebook, YouTube  web pages, and an image of whatever your camera is looking at. If you don't use up all of the battery, it's mode can be switched, and the device will simply charge your iPhone. If used to the full, it will give your iPhone around 80% of its charge. Naturally, 640×360 isn't a ground breaking resolution. It's perfectly adequate for viewing photos and movies at a good level of detail. This device shouldn't be mistaken for a corporate presentation tool, this is a device to use amongst friends, at parties, to show off a funny YouTube clip or an embarrassing photo. I am completely sold on this device, and it's perhaps the coolest thing I've ever owned. Wherever I've used it, it's been met with amazement, and incredibly positive feedback. Again sadly, this kind of awesomeness does come with a high price tag, but in this case, you definitely get your money's worth.
Those are 3 of my media accessories that I've found really push the envelope, and they've enhanced my iPhone experience exponentially. But what about you? What sort of media accessories do you use with your iPhone? Leave a comment below, and be sure to get in touch with me @TiP_Stephen if you have any questions about the devices I've mentioned!