Apple has never been open about their relationship with Corning. Even though Corning's Gorilla Glass owes its start to Jobs (He was the one who told Corning CEO Wendell Weeks "not to be afraid" to make it back in 2006) Apple has never incorporated it into marketing material. It is not even mentioned in Apple's supplier list. Maybe Apple just figures that they don't need to advertise "Gorilla Glass" in order to sell iPhones.
There is always the idea that Apple doesn't actually use it, and have gone to Asian glass manufacturers for their devices. However Corning told the New York Times that it has gone to China as well.
"Our customers are in Taiwan, Korea, Japan and China," said James B. Flaws, Corning's vice chairman and chief financial officer. "We could make the glass here, and then ship it by boat, but that takes 35 days. Or, we could ship it by air, but that's 10 times as expensive. So we build our glass factories next door to assembly factories, and those are overseas."
This all being said, Apple and Corning's relationship has finally become public. In Apple's recently published US Jobs report, they mentioned this:
"Corning employees in Kentucky and New York who create the majority of the glass for iPhone…"
There it is. The iPhone's glass is made by Corning; after all, why would it not have the best? So what does this mean? Well, its likely that Corning is making all the glass for Apple's iOS devices (and maybe the MacBook Pros to0). It also means that Gorilla Glass 2, unveiled at CES this year, most likely will make its way onto the next iPhone. It is supposed to be thinner, lighter, and 20% stronger, which means maybe we'll see a whole lot less of this: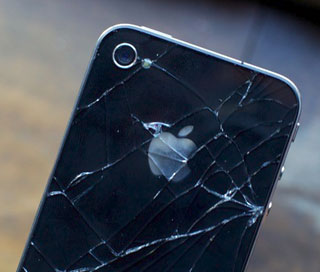 Why do you think Apple never really mentions Gorilla Glass when they are marketing their devices? Let me know in the comments below.
Via: 9To5Mac