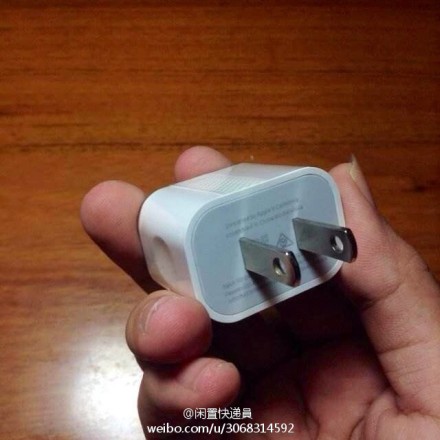 Right off the heals of the reversible USB Lightening cable that leaked online last week, a new power brick that's seemingly to go hand in hand with it has leaked online today. A user on Weibo has posted a photo that he claims is of the new power brick. The photo posted shows the brick to be a little bit larger than the current brick that comes with the iPhones today. Also visible are two indents on each side of the brick that are seemingly meant to provide a little grip when plugging and unplugging the brick.
It's unclear exactly why Apple is including a new power brick for the iPhone 6, but perhaps a larger brick is needed to provide more power to the device's larger battery. For reference, the current iPhone power brick is a 5 watt charger, with the iPad's brick being 10.
These are the first photos of a new power brick we've seen, and considering nearly every other feature of the iPhone 6 has already been leaked, we're most surprised we haven't seen this before.
You can view the original photo from the source right here.
Update: A user on MacRumors pointed out that this current power brick design is already in use as the official charger in Australia. Perhaps Apple has decided to move this design to the US after acclaim in the country down under.