Apple has notified registered developers of their plans to wipe out data on CloudKit public and private databases for beta versions of iOS 8 and OS X Yosemite. The wipe will erase data for iCloud Drive, iCloud Photo Library, and Mail Drop, and is scheduled to take place on Monday, July 7.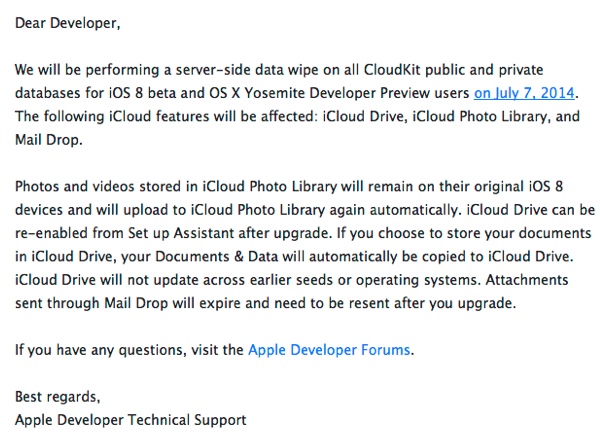 The data wipe comes just ahead of the rumored release date of iOS 8 beta 3 as well as the third OS X Yosemite Developer Preview.  So, new beta versions of iOS and OS X look set for a release of early next week (most likely Tuesday, July 8).
Apple normally releases early versions of iOS betas about every two weeks, moving to three-week intervals later in the beta testing period. iOS 8 beta 2 and the second Yosemite Developer Preview came approximately two weeks after they were released to developers at WWDC and it is now going on three weeks since those updates were released. But as stated, it looks as if iOS 8 beta 3 and the third OS X Yosemite Developer Preview will be released on Tuesday of next week.
As always, be sure to leave your thoughts in the comments section down below or give me a shout on Twitter – @malloriedeaton.
Source: 9to5Mac