The iPad is awesome. When the iPad was introduced in 2010, it revolutionised not only the world of mobile entertainment, but computing itself. The ability to shoot videos and stills, play music, browse the web, communicate with the wider world, navigate, socialise and game using highly polished, well designed apps on a large display made the iPad an instant hit, and its success has only grown since then. Whilst many competitors over the years have emerged, the iPad's optimised hardware, powering its excellent iOS software has kept it at the top of the food chain.
November 2 brought to our lives the latest iPad. The fourth generation (from now on the iPad 4). My iPad arrived late on Friday. Immediately, it was whisked away to the TiP head office in Carlisle, England, and unboxed by our very own Cam Bunton. Naturally, I was incredibly jealous that he got to take the cellophane off my iPad, but the prospect of new Apple stickers cheered me up immensely, and triumphant, I returned home with my iPad. My hands have been glued to its bezels ever since.
As you know, the iPad 4 was not a huge step up from the iPad 3. The only real updates were the new, faster, A6X processor, faster Wi-Fi, and the all new Lightning dock. Do those upgrades merit your cash if you currently own an iPad 3? Almost certainly not, but, if you're looking to buy an iPad, than this is the only way to go. That being said, there's really not much I'll be able to say in my full review that isn't said here.
When it comes to hardware, the iPad 4 comes with the same, top rate build quality that is apparent in all of Apple's devices. The device came out of the box with 100% charge, which I thought was pretty neat. Back in the day, you would buy a phone, take it out of its box, and find you had to charge it for 12-16 hours before it was ready to use, so kudos to Apple on that one. The screen, like that of the iPad 3, is incredible, I'm still somewhat taken aback when I use it. All excellent features, but there's really nothing to behold that you wouldn't find on the previous iPad.
For me, the iPad 4 sets itself apart in two key areas . The A6X processor isn't really effective in any of the day to day tasks you'll be carrying out on an iPad. Reading emails, watching videos, and browsing the web are no different to the experience on the original iPad, they're rapid, yes, but no more so than before. The A6X processor really shines when it's time to engage in something a little more taxing. To really push the boat out, I installed 'Atlas', by Collins. A Google Earth type app that incorporates fantastic 3D rendering with a wealth of geo-political and social information. Viewing the globe, I found that no matter how many erratic movements I made, the app simply didn't lag. It was the same story when I tried to view the accompanying information, which the iPad loaded in a heartbeat. You'll also notice that loading times of most apps are significantly reduced, and that when you start pushing the A6X a little, it really shines.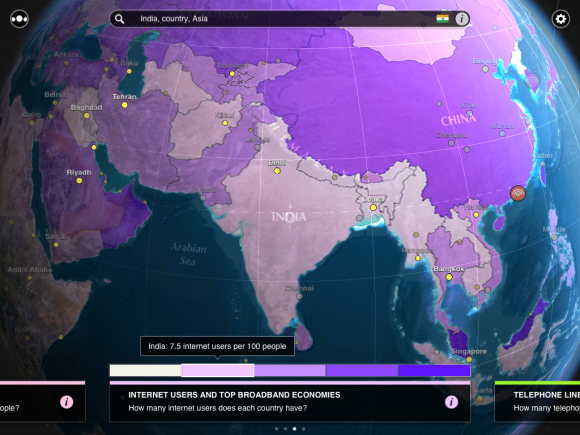 The second area to notice was the new, faster Wi-Fi. Having run a couple of speed tests  I'm a little astounded to report that my iPad actually clocks faster speeds over Wi-Fi than my monster PC does using an ethernet cable, in both ping, upload and download. For me personally, the new dual-band Wi-Fi has really enhanced my user experience, and made connectivity tasks much faster.
Apple also promised 10 hours of battery life with the new iPad, but I'm afraid that I can't make a comment on this. That's because I use my iPad for pretty intensive processes, like playing FIFA 13. Obviously, my heavy use will somewhat reduce the battery life, so it wouldn't be fair for me to comment, I'm sure that if I was to reign in my use a little, I'd be receiving some pretty impressive results. The new Lightning dock is a little fiddly for me, but it's nice not having to worry about which direction it's pointing when I use it. Along with the Lightning dock, the 12W wall socket adapter is producing some really impressive charging times, another added bonus.
Overall, my first impressions of this device are phenomenal. I couldn't be happier, and I'm really excited to see how much more the iPad 4 has to offer me. If you've got any questions, hit me up on Twitter @TiP_Stephen